Home

All Articles

Wakeskate Guide

Discussion Forums

Features

Reviews

Trick Tips

Wakeskating History

Links

Link To Us

Wakeboarding

Wakesurfing

Wakeboards

Wakeboard Towers

Hyperlite Wakeskates

Liquid Force Wakeskates

Byerly Wakeskates

Buy Wakeboards

Ronix Wakeboards

Liquid Force Wakeboards

Buy Wakeskates

Wakeboard Towers

Wakepics

Wake Videos

Complete Longboards

Article Alert


Media Center

Pictures

Videos

Buy Wakeskate Videos


Grip Deck

Getting Up

Dock Start

Ollie

HS Wake Jump

TS Wake Jump

HS Backside 180

BS Pop Shuvit

FS Pop Shuvit

Surface 180 Shuvit

FS Bigspin

TS Shuvit to Indy

Kickflip


Advertise

Contribute Articles

Submit A Trick

Feedback Form

Visitor Feedback

About RSS

Author & Rider: Chris Bryan

The heelside backside 180 has always been one of the most favorites of all the 180's. When performed correctly, it is one of the stylish tricks that can be performed behind a boat. The reason the backside 180 is such a respectable trick is because it consist of a backside spin and a blind landing. The spin is called backside because the rider's back faces forward on the first rotation. It is a very mellow trick that can be floated high with a late spin. To prepare for taking this trick wake-to-wake, start off by learning it in the flats with an ollie. After you get that dialed in, take it to the wake, but perform the trick off of one wake. Usually, you can get a better feel for how the trick will feel wake-to-wake by learning it off of one wake, but from the inside out. When you get comfortable with a one wake backside 180, step it up to both wakes, but remember to keep your mechanics the same. When landing the backside 180, you can either pass the handle or land wrapped. Both methods feel cool, so mix it up.

Prerequisties
Before landing the backside 180 you should be able to do the following things:
1. Jump wake to wake heelside.
2. Be able to land switch with control.
3. Be able to do an ollie backside 180.


Performing the trick
Watch this trick as a Windows Media movie (2.18MB).

Start from about 10-15 feet outside the wake and come in on your heels with a strong edge. I like to release the rope with my back hand just before coming off the wake in preparation for the spin.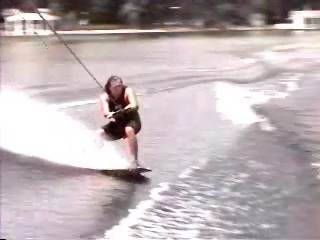 As you pop off the wake you want to begin your rotation once you are in the air. Suck your feet up as you rotate to keep the board with you. Try to point your toes down slightly so the bottom of the board is facing the boat, which will help keep the board with you as well Remember to keep your head up.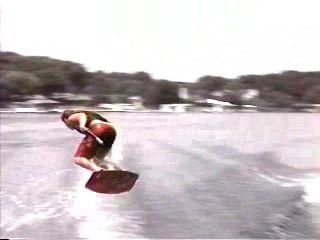 Once you feel the 180 come around pass the handle and prepare for the landing. I find it easier to pass the handle late in the trick.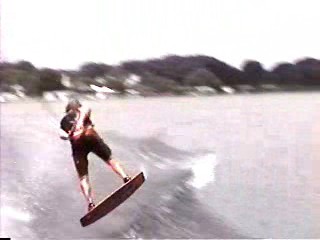 You want to land with your weight over your toes. To do this try to take a bow at the end the trick. Also, remember to face the direction you are traveling. I find that a lot of people land looking backwards, instead, land with your head up and look at the shore you are going towards.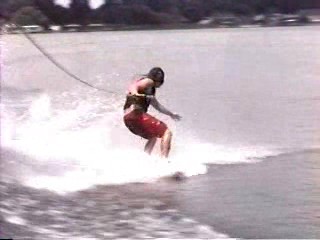 Style additions
1. Take it big and float it
2. Add a grab
3. Land wrapped and tick tock out

Moving On
1. HS Backside 360

If you have specific questions about this trick or would like to discuss it further, talk about it in the Wakeskate Discussion Forum.
Shop For Wakeskating Gear

Hyperlite Girls Child Indy Vest Purple



Wakeboards


Ronix Wakeboards


Hyperlite Wakeboards


Liquid Force Wakeboards


Slingshot Wakeboards


CWB Wakeboards


Wakeboard Bindings


Ronix Bindings


Hyperlite Bindings


Liquid Force Bindings


Slingshot Bindings


CWB Bindings


Wakeboard Packages


Wakeskates


Wakesurf Boards