Home

All Articles

Wakeskate Guide

Discussion Forums

Features

Reviews

Trick Tips

Wakeskating History

Links

Link To Us

Wakeboarding

Wakesurfing

Wakeboards

Wakeboard Towers

Hyperlite Wakeskates

Liquid Force Wakeskates

Byerly Wakeskates

Buy Wakeboards

Ronix Wakeboards

Liquid Force Wakeboards

Buy Wakeskates

Wakeboard Towers

Wakepics

Wake Videos

Complete Longboards

Article Alert


Media Center

Pictures

Videos

Buy Wakeskate Videos


Grip Deck

Getting Up

Dock Start

Ollie

HS Wake Jump

TS Wake Jump

HS Backside 180

BS Pop Shuvit

FS Pop Shuvit

Surface 180 Shuvit

FS Bigspin

TS Shuvit to Indy

Kickflip


Advertise

Contribute Articles

Submit A Trick

Feedback Form

Visitor Feedback

About RSS
Learn How To Kickflip With George Daniels
The kickflip is now making its way into more rider's trick bags and we wanted to help you get it inot yours. The kickflip was once being perfomed by only a handful of riders and was a trick that seperated the elite riders from the good riders. It is still a milestone in any wakeskaters career today, but it is now a lot more common among riders today. This isn't because the trick has suddenly become easier to perform. It is because there are so many more good riders on the water these days and a lot better equipment.

Although there are more people doing kickflips now, it is safe to say that if you can get the technique down and start sticking them, you will more than likely still be one of the few in your area doing kickflips on the water. In another trick tip brought to you by Kampus Wakeskates, team rider and frequent Wakeskating.com visitor, George Daniels, teaches you the basic steps to a kickflip. Wakesakting.com strongly suggest that you wear a life vest when wakeskating.

Brought to you by:





Prerequisites
Before doing a kickflip on your wakeskate, you should be able to do the following things:
1. Ollie
2. Pop Shuvit
3. Ollie from the inside of the wake into the flats

Watch The Video

Watch kickflip video - (Windows Media 1.14MB)

Performing The Trick - Kickflip

The first step is to get your feet positioned right. Daniels suggest that you put your back foot about an inch from the tail of your board and your front foot about mid way down from the nose of your skate. Slant your front foot by moving your heal away from your deck just a tad. This is only a recomendation, you can surely find a more comfortable foot position that may work better for you.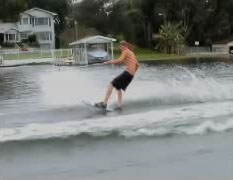 As you are about to make the pop off of the water, press down harder on your tail than you normally would for a straight ollie or a pop shuvit. This will give you maximum hang time to perform the flip.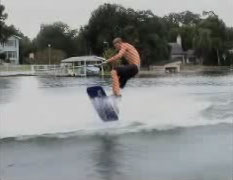 Once you are leaving the water, flick your front foot down to flip the board and suck your knees up to your chest as much as possible. Be sure to get your feet out of the way of the board, but keep your eye on the board as it flips under you.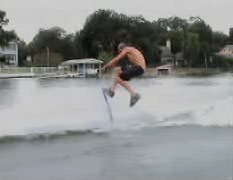 As the board comes around after a full flip, catch it with your back foot to keep it from flipping over again. Catching the board in the air will give you more control on the landing and will add a lot more style to the trick.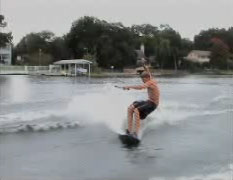 Upon landing back on the water, be sure that your feet are evenly spaced and in your normal riding position. Your front foot may not be on the board solid until you hit the water. Put some weight on your heals to get your board on edge for better control of your landing. Ride away smooth and then do the Cabbage Patch for landing your first kickflip on a wakeskate.

Style Additions
1. Be sure to flick your foot and not mob it
2. Catch the board high off of the water
3. Kickflip over something

Moving On
After learning a kickflip, you can move on to the following tricks.
1. Varial flip
2. 180 flip
3. Switch kickflip

Check out more video clips and still shots of the Kampus Team killing it at www.kampuswakesk8.com.

Comments?
Shop For Wakeskating Gear

Reef Sandals Phantom Flight Brown/Orange - Men's Sandal

Hyperlite Girls Child Indy Vest Purple


Wakeboards


Ronix Wakeboards


Hyperlite Wakeboards


Liquid Force Wakeboards


Slingshot Wakeboards


CWB Wakeboards


Wakeboard Bindings


Ronix Bindings


Hyperlite Bindings


Liquid Force Bindings


Slingshot Bindings


CWB Bindings


Wakeboard Packages


Wakeskates


Wakesurf Boards