Home

All Articles

Wakeskate Guide

Discussion Forums

Features

Reviews

Trick Tips

Wakeskating History

Links

Link To Us

Wakeboarding

Wakesurfing

Wakeboards

Wakeboard Towers

Hyperlite Wakeskates

Liquid Force Wakeskates

Byerly Wakeskates

Buy Wakeboards

Ronix Wakeboards

Liquid Force Wakeboards

Buy Wakeskates

Wakeboard Towers

Wakepics

Wake Videos

Complete Longboards

Article Alert


Media Center

Pictures

Videos

Buy Wakeskate Videos


Grip Deck

Getting Up

Dock Start

Ollie

HS Wake Jump

TS Wake Jump

HS Backside 180

BS Pop Shuvit

FS Pop Shuvit

Surface 180 Shuvit

FS Bigspin

TS Shuvit to Indy

Kickflip


Advertise

Contribute Articles

Submit A Trick

Feedback Form

Visitor Feedback

About RSS
Wakeskate Game - The Second Edition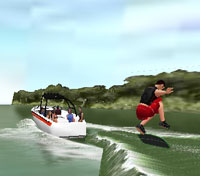 Alf Silos of Crazy Chicken Studios released his second version of a wakeskate game that he has been working on since January 2004, The Raging Alcoholics Extreme Wake[skate] Game. Alf's hard work and dedication has paid off for all of us. This game will soon become your worst nightmare if you are trying to stay productive at work or school on a computer, it is very addicting. Any avid wakeskater will really appreciate the effort and attention to detail Alf put into the design of this game. It is loaded with tricks and features that will provide hours of wakeskating fun when you can't go out and ride. The best part about it is that Alf has released the game to the public free of charge. That's right, you can play it right now! Be sure to have Shockwave Player installed on your computer and simply click on the "play game" link below.

Screen Shots
Check out some screen shots of the game in action. Click on the following link to visit the game's photo gallery.

Game Play
We had the opportunity to test out a few prior versions of the game as Alf worked through bugs and details to reach his first released version. This game has come a long way and is more fun each time a new version comes out. In the past, other wake related games were very hard to execute tricks. This game was created to be easier for the gamer to perform basic moves, but you can still get advanced with combos and linking tricks. Lots of hang time gives you plenty of time to execute the key patterns to perform various tricks. There is a trick lock on the game, so you can't jump the wake and do 50 kickflips in a row. A trick has to be completed before you can do another trick. Anything is possible, but Silos wanted to keep the game somewhat realistic.

Be sure to go through the tutorial and other game options before starting to play. You will find the game to be a lot more fun if you know what you are doing before you start. You can also submit your high scores, so start practicing now for future Wakeskating.com events.

Error: When the game starts, push the "j" key to begin instead of "p" key.

Tip: The real-time reflections can sometimes hog down on memory. Just switch it off in the options menu.


Click Here To Play The Wakeskate Game

Tricks
Remember to tap your keys in sequence, not at the same time. So if you want to do a kickflip in the flast, tap j-a-k. Use the keys below to put combos together. There is no telling what you can come up with.

A,W,S,D - Directions
H - Grabs
J - Ollie
K - Flip
Y - Spin/switch
U - Rail
I - Spin/switch

Words From Alf Silos
Alf Silos, creator of the game, took some time to answer a few questions for Wakeskating.com about his game. We thought it would be interesting to get a little information about what it took for Alf to put this game together.

Wakeskating.com (WS) What inspired you to create a wakeskating game?

Alf Silos (AS): I've been into game developing for the past 5 years and I've been
experimenting on all types of games; shooters, racers, rpg's, name it. Most of which are based on activities my buddies and I engage in. 2 years ago, I got into wakeboarding (wakeskating a few months after) and decided to develop a game based on my new sport. Unfortunately, my schedule wasn't cooperating so development was slow back then.

WS: How long did it take to develop the game?

AS: More time went into planning than the actual work itself. As I mentioned earlier, I started working on a wakeboading game 2 years ago but it wasn't going too well, so I scrapped that and by January of this year, I chose to develop this and it turned out pretty cool!

WS: How did you develop the movements for the rider/tricks?

AS: Unlike the methods used by a lot of game companies nowadays, this game involved no motion capture of any sort. Traditional keyframing, religious watching of videos, and a lot of patience were my weapons.

WS: Do you think it is important to keep a game as real as possible or add in unrealistic features for "fun"? Explain.

AS: It's best to keep the game in between; If it's too realistic, players might have a hard time and the next thing you know, you have a frustrated gamer cursing at your game. Too exaggerated, gameplay will be fun, but too easy and in result, will be boring. It's important to balance the realistic/unrealistic features of a game to keep the challenge for the player as well as the fun factor.

WS: Do you think your wakeskating game (or a similar version) will make it to the game console market?

AS: Hopefully, I'd love to see one of my projects running on a PS2 or the Xbox! I'll probably work towards that in the near future, but right now, I'd like to keep the game free for everyone.

Ws: Will you continue to expand on this game with new features, improvements, etc?

AS: I have a lot of things planned for this game's final version, not just regular upgrades like new tricks, new environments, etc., but a huge change in everything. For starters, the title of this game had 'wake[skate]', so the brackets must mean something right?

WS: Is there anyone you would like to thank or give credit to?

AS: My sister, Steph, and her son, Franco, for all the support. Dave Barousse of wakeskating.com, Reg Santiago of philwakeriders.com, my riding buddies Jemir Blanco, Quincy Buenaflor, Rob Roxas, and Jericho Valenzuela for testing the game and pressuring me when I skate! Finally, to all the people who had taken the time to play this game! I hope you enjoyed! Thank you all!!!

Additional Information About The Game

The title is The Raging Alcoholics because it's the joke name of the group of my buddies and I. Extreme because of the extreme sports genre of the game. Originally, this game was split into 3 parts, Rush, Jet, and Wake. Rush being a car racing game, Jet for jet-ski racing, and Wake for both boarding and skating.

Comments?
Shop For Wakeskating Gear

Liquid Force 2018 Trip 142 Wakeboard

CWB USCGA Boys Child Vest

Accurate 20ft Wakesurf Rope and Handle

Liquid Force Padded WakeSurf Sleeve


Wakeboards


Ronix Wakeboards


Hyperlite Wakeboards


Liquid Force Wakeboards


Slingshot Wakeboards


CWB Wakeboards


Wakeboard Bindings


Ronix Bindings


Hyperlite Bindings


Liquid Force Bindings


Slingshot Bindings


CWB Bindings


Wakeboard Packages


Wakeskates


Wakesurf Boards