Rider: Dave Barousse

Getting up on a wakeskate is very similar to getting up on a wakeboard. If you can already get up on a wakeboard, then getting up on wakeksate will be a cinch. The method of getting up explained in the instructional is a more advanced technique, but some beginners may find it more comfortable as well. We called this method the board under water method because basically you will be standing on top of your submerged board while waiting for the boat to pull you up. This method is harder for lighter people that cannot keep the board under them, but is fairly simple for the most part.

Prerequisties
Before getting up, you should be able to do the following things:
1. Be comfortable in the water behind a boat.
2. Be wearing a PFD.
3. Be able to pull yourself up from the sitting position.


Performing The Trick
Watch this trick as a Quicktime movie (405kb) or as a Windows Media movie (237kb).

When preparing to get up, push your board under the water and stand on it with your feet in the normal riding position. You will be standing perpendicular to the boat.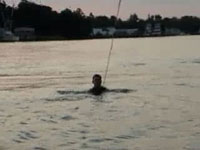 As the boat gets under way, start to bend your knees a little and lean back against the rope to resist the pull of the boat. Be sure to keep your weight over the top of your board.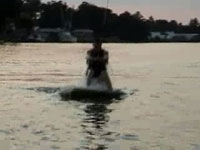 You will begin to rise out of the water. Keep a slight bend in your knees just let the boat pull you all the way up and on top of the water.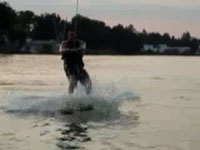 Once you are completely on top of the water, you may still be perpendicular to the boat. Start applying more preasure to the foot that will be in the back and you can even let go with your back hand to turn sideways.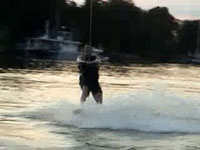 Moving On
Once you are up, the possibilites are endless. Here are a few suggestions:
1. Cross both wakes to get use to feeling the board under your feet reacting with the water.
2. Slow the boat down to about 10 to 15 mph and practice sliding the board around.
3. Cut into the wake and surf carve away.

If you have specific questions about this trick or would like to discuss it further, talk about it in the Wakeskate Discussion Forum.
Shop For Wakeskating Gear