Home

All Articles

Wakeskate Guide

Discussion Forums

Features

Reviews

Trick Tips

Wakeskating History

Links

Link To Us

Wakeboarding

Wakesurfing

Wakeboards

Wakeboard Towers

Hyperlite Wakeskates

Liquid Force Wakeskates

Byerly Wakeskates

Buy Wakeboards

Ronix Wakeboards

Liquid Force Wakeboards

Buy Wakeskates

Wakeboard Towers

Wakepics

Wake Videos

Complete Longboards

Article Alert


Media Center

Pictures

Videos

Buy Wakeskate Videos


Grip Deck

Getting Up

Dock Start

Ollie

HS Wake Jump

TS Wake Jump

HS Backside 180

BS Pop Shuvit

FS Pop Shuvit

Surface 180 Shuvit

FS Bigspin

TS Shuvit to Indy

Kickflip


Advertise

Contribute Articles

Submit A Trick

Feedback Form

Visitor Feedback

About RSS
2004 Kampus Wakeskate Shoe: KS-1

Company: Pentagon Distribution
Brand: Kampus Wakesk8s
Product: Wakeskate Shoe
Model: KS-1

Kampus is proud to announce the release of the New Wakeskate shoe, the KS-1.

After several months (16) of intense R & D, the Shoe has finally been released for the 2004 season.

The KS-1 features super lightweight materials, proper drainage, quick drying methods and solid performance.

Kampus Drain system:

The KDS drain system penetrates through the insole liner, and releases onto the Lightweight EVA mid-sole, which has channeled drain passages to exit water freely. The soft rubber outsole provides excellent stick to Foam and Grip tape surfaces, thus keeping you on your deck!

A Durable rubber toecap combined with hidden lace loops were added to protect against rugged footwork, and serve rider demands.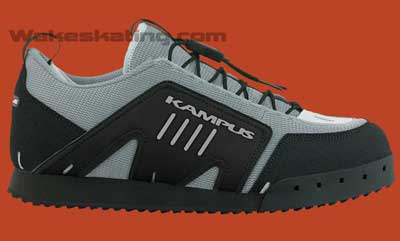 To finish off the shoe, we have added a low cut sock liner to insure sold fit and comfort.

Pull-tabs have been applied to the tongue and heel of the shoe, to make it simple to "enter and exit"

Sizes avail – 6.5 –13 (US)

SUG RETAIL. To be announced at Surf Expo.
Sizes avail – 6.5 –13 (US)

Pacific Sports Group LLC.
PENTAGON DISTRIBUTION
5671 Palmer Way
Suite K
Carlsbad, CA. 92008
P. 760-438-7674
F. 760-438-7675

www.pentagondist.com
www.kampuswakesk8.com

Comments?
Shop For Wakeskating Gear

Inland Surfer Small Wakesurf Bag for Inland Surfer Wakesurf Boards




Wakeboards


Ronix Wakeboards


Hyperlite Wakeboards


Liquid Force Wakeboards


Slingshot Wakeboards


CWB Wakeboards


Wakeboard Bindings


Ronix Bindings


Hyperlite Bindings


Liquid Force Bindings


Slingshot Bindings


CWB Bindings


Wakeboard Packages


Wakeskates


Wakesurf Boards