Home

All Articles

Wakeskate Guide

Discussion Forums

Features

Reviews

Trick Tips

Wakeskating History

Links

Link To Us

Wakeboarding

Wakesurfing

Wakeboards

Wakeboard Towers

Hyperlite Wakeskates

Liquid Force Wakeskates

Byerly Wakeskates

Buy Wakeboards

Ronix Wakeboards

Liquid Force Wakeboards

Buy Wakeskates

Wakeboard Towers

Wakepics

Wake Videos

Complete Longboards

Article Alert


Media Center

Pictures

Videos

Buy Wakeskate Videos


Grip Deck

Getting Up

Dock Start

Ollie

HS Wake Jump

TS Wake Jump

HS Backside 180

BS Pop Shuvit

FS Pop Shuvit

Surface 180 Shuvit

FS Bigspin

TS Shuvit to Indy

Kickflip


Advertise

Contribute Articles

Submit A Trick

Feedback Form

Visitor Feedback

About RSS
Hyperlite Gate Wakeskate Preview

Hyperlite has given Wakeskating.com and Wakeboarder.com an exclusive on their newly designed wakeskate for 2004 called "the Gate". It has a new 3.6" kicktail and was designed by Murray, Bonifay, Grubb, and Byerly.

Manufacturer's Description:
This last season our team built a new deck with a higher kicktail for bigger airs. Expand your limit of tricks with manuals and nollies out in the flats.

The Gate comes stock with the following features: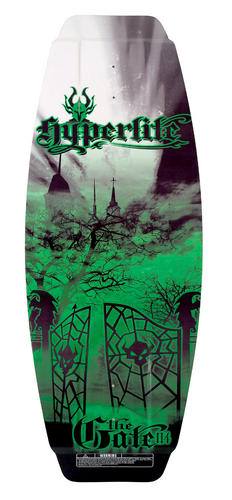 A 3.6" high kicktail independent of the waterline giving a skater increased power on ollies. This new, secondary kicktail has more to leverage off of.


EVA designed specifically for added traction while skating in shoes our team swears by it.


Same proven concave for extra board control and solid ollie power


A deep center tunnel allows additional water to flow thru the end of the board for more stability.


Compression molding and a nylon base material for extra durability.


Designed by Shaun Murray, Parks Bonifay, Brian Grubb and Scott Byerly.

Buy It Now At Wakeside.com



Related Items:


Wakeboards


Ronix Wakeboards


Hyperlite Wakeboards


Liquid Force Wakeboards


Slingshot Wakeboards


CWB Wakeboards


Wakeboard Bindings


Ronix Bindings


Hyperlite Bindings


Liquid Force Bindings


Slingshot Bindings


CWB Bindings


Wakeboard Packages


Wakeskates


Wakesurf Boards