Home

All Articles

Wakeskate Guide

Discussion Forums

Features

Reviews

Trick Tips

Wakeskating History

Links

Link To Us

Wakeboarding

Wakesurfing

Wakeboards

Wakeboard Towers

Hyperlite Wakeskates

Liquid Force Wakeskates

Byerly Wakeskates

Buy Wakeboards

Ronix Wakeboards

Liquid Force Wakeboards

Buy Wakeskates

Wakeboard Towers

Wakepics

Wake Videos

Complete Longboards

Article Alert


Media Center

Pictures

Videos

Buy Wakeskate Videos


Grip Deck

Getting Up

Dock Start

Ollie

HS Wake Jump

TS Wake Jump

HS Backside 180

BS Pop Shuvit

FS Pop Shuvit

Surface 180 Shuvit

FS Bigspin

TS Shuvit to Indy

Kickflip


Advertise

Contribute Articles

Submit A Trick

Feedback Form

Visitor Feedback

About RSS
Integrity Previews 2009 Additions At Surf Expo, Launches Mutiny
Date: 09-14-2008
Author: Wakeskating.com Staff
View the Integrity/Mutiny photo gallery here.

Perhaps surprising to some is the fact that Integrity wakeskates has never made an appearance at the Surf Expo in their four year history. Though, back in 2003 Erich Schmaltz showcased his Mutiny line of wakeskates to the industry--a line that would come to inspire what Integrity wakeskates became. For 2008, Integrity made its first appearance on the Surf Expo floor with a full range of boards, and five years later Mutiny wakeskates re-emerged (a high-end Mutiny wakeboard will follow) with the classic Perseverance model, which made its debut in 2003. And as I imagine the 2003 line to have looked in person, everything in the 2009 product line was looking original, thoughtful and durable.

For 2009, the current pro model line-up of wakeskates comprised of Nick Taylor and Ryan Lemons models will continue on. The graphics featured on the current models will also remain the same. The main difference for 2009 is that those boards will be produced exclusively with a bamboo centerweight core. The bamboo adds weight and stiffens the models, the latter of which aids in pop. In addition to the bamboo core, these models will also feature a PBT top and bottom sheet and re-shapable urethane sidewalls. The bamboo core pro models will be priced at $405.00.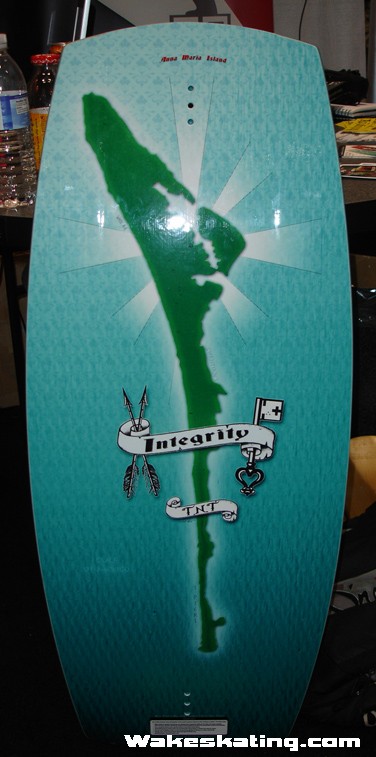 Nick Taylor pro model graphic.

TNT top view
TNT concave and pre-kicks
TNT kicktail

View the Ryan Lemons pro model at www.integrity-wake.com.

In order to cater to the rider who wants a long lasting board, but doesn't have the money to spend on a high-end wakeskate, Integrity will be releasing three sizes in their team model. The sizes available will be a 41", and a 2009 addition of a 40.23" and a 38.65". These models will have a PBT top and bottom sheet, a centrafused core, and re-shapable urethane sidewalls. These boards will also be priced at $335.00.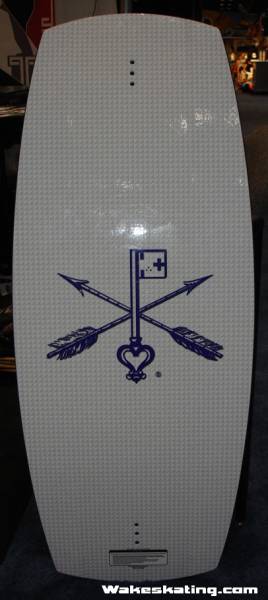 2009 Team graphic.
2009 Team Top
2009 Team concave and pre kicks
2009 Team kicktail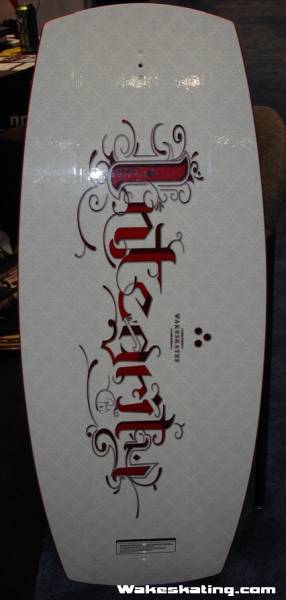 2008/09 Integrity Team (41").

2008/09 Team top
2008/09 team concave
2008/09 Team kicktail

Integrity emerged in 2008 in a grand fashion through the release of 25 limited edition wakeskates. If you're one that missed out one of those boards, they're bringing back that concept for 2009 by producing a limited number of boards in each pro model size (38.65" and 40.23"). Production numbers could change, but the numbers currently look to be 25 builds in each size. These models will be primo, consisting of a durasurf base, glow in the dark treatments, and new for the 2009 Limiteds is a bamboo centerweight core, and detailing in the urethane sidewall, which includes but is not limited to gold pinstriping. Again, details are not set in stone, but this will give you a good idea as to what will be available if you're still keen on having a limited edition Integrity wakeskate. These boards will be released right around the first of the year, so start saving!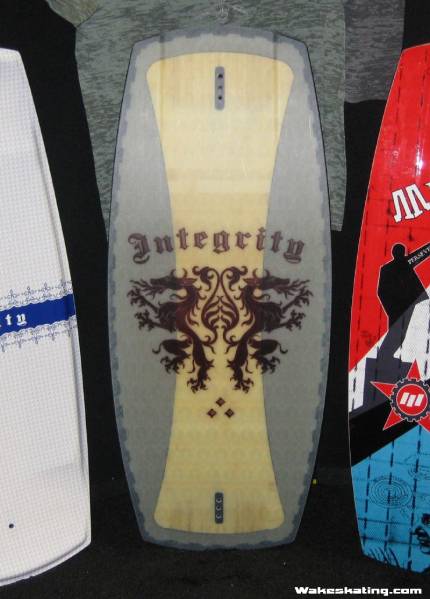 Limited edition display from the Surf Expo. Note the transparent base material, which exposes the bamboo centerweight core. Photo courtesy of Erich Schmaltz.

To compliment their expanding board line, Integrity has been working on a fin accessory they're currently calling "lip sticks." Whilst pictures were not taken, since the models present were early samples that could change before the final product is released, picture a pink (or similarly crazy colored) blunt fin that has a flat base and cylindrical top, and there's your lip stick. They'll also be made of a hard urethane that will slide well. Perhaps most important to a wakeskater who's scraping for cash is that they'll be really affordable, coming in at around $5.00.

Finally, rounding out the Integrity line is their range of soft goods. They could nearly cover you from head to toe, with hats, sick t-shirts, nylon work jackets, hoodies--you just need to supply the pants (and we all hope that you do). These items will be ready in the next couple of months, so keep an eye out if you're wanting to keep your kit fresh.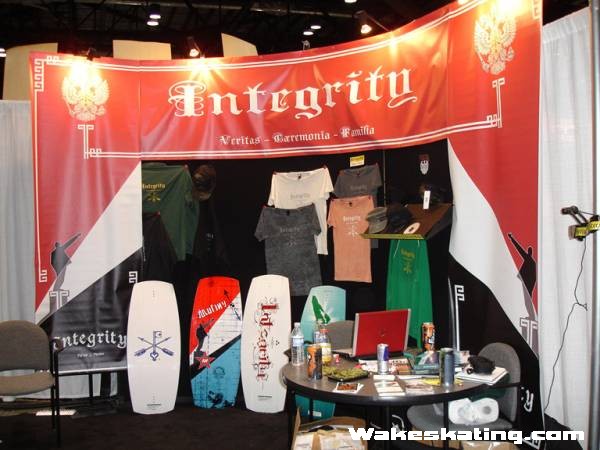 Integrity booth and line-up.

One last board (but certainly not the least, unless you're thinking about cash and cost) is the new wakeskate that will be coming out under the Mutiny brand. Admittedly, this is one of my all-time favorite board graphics, but Mutiny never had a chance to release it in a grand fashion (if you have an original from 2003, you're one of few, but you probably know that). Considering its history, it's only fitting that the Perseverance be re-released under Mutiny, complete with its revolutionary (both literally and symbolically) graphic, and even crazier top deck graphic. The graphics on the top sheet are actually old designs that people might not have seen, especially if you haven't eyed up an original Mutiny Freeboard from the mid to late 90s.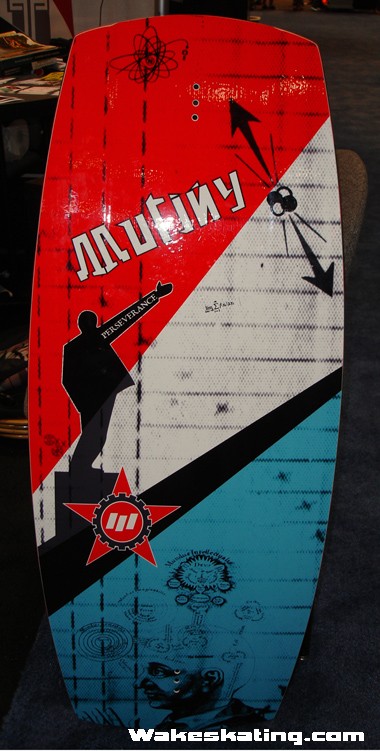 Bringing back the old with a touch of the new: the updated Perseverance graphic by Mutiny.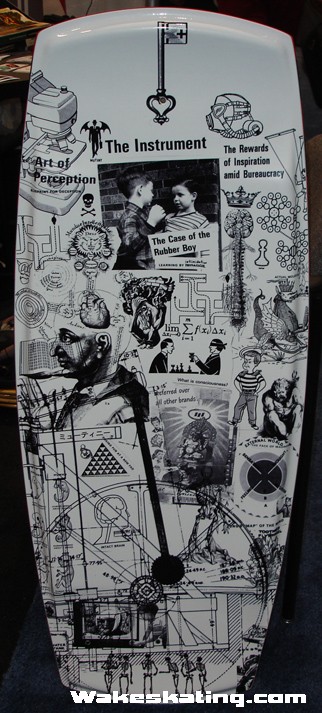 Mutiny top sheet. This was supposed to be on the original Perseverance, but those models had red or grey top sheets.

The board on display was just a graphic mock-up, so it's important to note that the Mutiny line will be completely different from what Integrity offers. The Mutiny wakeskates will be even more affordable, and will have the wood purists in mind through their closed-cell foam and birch and maple stringer construction. Other fine points still need to be ironed out, and of course you will be informed in due time. Just recognize that if you're down for Integrity but you really like the feeling of a wood deck, this might be an option for you.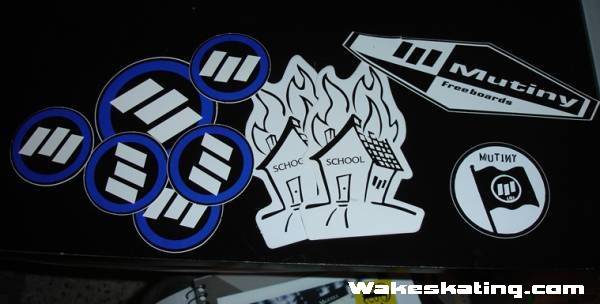 Yeah, these are just some original Mutiny stickers that Erich saved and then brought to the expo. No big deal...

Comments?
Shop For Wakeskating Gear



Wakeboards


Ronix Wakeboards


Hyperlite Wakeboards


Liquid Force Wakeboards


Slingshot Wakeboards


CWB Wakeboards


Wakeboard Bindings


Ronix Bindings


Hyperlite Bindings


Liquid Force Bindings


Slingshot Bindings


CWB Bindings


Wakeboard Packages


Wakeskates


Wakesurf Boards