Home

All Articles

Wakeskate Guide

Discussion Forums

Features

Reviews

Trick Tips

Wakeskating History

Links

Link To Us

Wakeboarding

Wakesurfing

Wakeboards

Wakeboard Towers

Hyperlite Wakeskates

Liquid Force Wakeskates

Byerly Wakeskates

Buy Wakeboards

Ronix Wakeboards

Liquid Force Wakeboards

Buy Wakeskates

Wakeboard Towers

Wakepics

Wake Videos

Complete Longboards

Article Alert


Media Center

Pictures

Videos

Buy Wakeskate Videos


Grip Deck

Getting Up

Dock Start

Ollie

HS Wake Jump

TS Wake Jump

HS Backside 180

BS Pop Shuvit

FS Pop Shuvit

Surface 180 Shuvit

FS Bigspin

TS Shuvit to Indy

Kickflip


Advertise

Contribute Articles

Submit A Trick

Feedback Form

Visitor Feedback

About RSS
Snap: A Wakeskate Instructional DVD Review

Reviewed by: Dave Barousse

Concept
Bump Films, the creators of Higher Education, has released the first wakeskate only instructional video. This instructional video is a must have for anyone interested in wakeskating and will amaze everyone that watches it. Snap is first and foremost an instructional video, but it is also loaded with extra sections of sick free riding and bonus features.

The instructional sections of the video are broken down into four parts. There is a beginner skills, wake-to-wake, lip trick and rails and ramp sections. The entire video is built upon progression, meaning that the things you will learn early on in the video will be needed to perform the tricks taught later in the video. All the tricks will build on each other. Snap takes you through the basic equipment needed to wakeskate and how to prepare your boat for wakeskating all the way to landing kickflips and wake-to-wake 360's.





Cinematography
The cinematography of Snap is excellent. It's all filmed in high quality film from the experienced crew at Bump Films. Each section is shot with close ups, different angles and slow motion so that you can see exactly how to perform each trick. Split screens and under water footage is also used to fully show what should be happening throughout an entire trick. The DVD is great for stepping through a trick frame by frame, zooming in and looking at different angles.

Length
Snap is over 90 minutes of instructions and bonus footage and is broken down into 40 chapters. The four sections are also clearly marked and can be viewed one at a time rather than having to view them all in one sitting. You could easily forget that Sanp is an instructional video when watching the bonus footage. The bonus footage is longer than some entire wakeboarding videos from the past.

Riding
The riding in Snap is simply unbelievable. Aaron Reed acts as the main coach throughout the video and has some very understanding ways of explaining the tricks. Reed's riding skills are truly remarkable and he is also pretty funny throughout the film. Other riders such as Brian Grubb help out with explaining a few tricks and tips and are also used to perform tricks in the instructional sections.

Riders Starring In Snap
Aaron Reed, Brian Grubb, Thomas Horrell, Tim Kovacich, Scott Byerly, Drew McGuckin and Danny Hampson

Sections
Snap is broken down into four main sections. These sections include:

Beginner skills
Wake-to-wake tricks
Lip tricks
Rails and ramps

The beginning skills section is fully packed with everything you need to know to get started with wakeskating. Starting out with explaining equipment, terms, how to weight and drive your boat and how to get up in deep water and off of a dock. The section immediately goes into basic drills that Aaron Reed walks you through that help you get used to riding a wakeskate but also starts preparing you for advancing to harder tricks. These drills are great for someone just starting to wakeskate and for those that have been wakeskating for years. Drills such as pumping the wake, safety position and lose rope turns prepare you for tricks taught later in the section such as ollies, one wake jumps and ollie 180's. The drift exercise and progressive edge instructions are very important and we recommend you pay close attention to them.

The Wake-to-wake section is all about tricks that are performed wake-to-wake. Reed starts you off by showing you how to jump one wake correctly and gets you ready for the awesome wake-to-wake tricks that are taught throughout the section. They take you through heel side, toe side and switch wake-to-wake tricks and explains each trick in great detail. Wake-to-wake grabs are also taught in this section as well as frontside and backside spins. Other wake-to-wake tricks taught are:


Frontside 180s

Switch wake jumps

Backside 180s

360s

Backside Shuvits

Body Varials

One Footers

The Lip trick section takes you through a series of tricks that are performed on the lip of the wake as if it is a rail. Reed explains the differences between lip slides and board slides and a basic understanding of how each one is performed frontside and backside before adding some variations to each. Reed also teaches ollies and shuvits out of the different slides, ollies into the slides, ollies off of the lip and ollies with spins. Watch this section several times when you think you are ready to start combining tricks and flowing from trick to trick. Other tricks taught in this section are:


Frontside Lipslides

Backside Boardslides

Ollies off the Lip

Frontside Boardslides

Backside Lipslides

Ollies combined with slides

Body Varial

Shuvits

Frontside 270 on

The Kickflip

The final instructional section of the video is the rails and ramps section. Bump obviously wants riders to watch this section at their own risk as they mention several times to only watch this section if you think you are ready for it. Reed starts it off by giving you basic rail awareness and enforces the precautions you should take before hitting rails. Grubb finishes up with some kicker and ramp tricks and tips. The section also goes over how to hit flat rails, rails with transition and kickers and how to perform variations on and off the rails and kickers. We would also like to say that if you think that you are not ready to hit rails, please do not attempt to hit them on a wakeskate. Tricks taught in this section include:


Rails

Backside Boardslides

Backside Boardslide Variations

Rails with transitions

Frontside Boardslides

Frontside Boardslide Variations

More Rail Variations

Ramps and Kickers

Bonus Footage
Other sections on the film include A day in the life of Brian Grubb, Towable slider sessions at Byerly's and Watson's, Killer freeride sections by the main riders in the video as well as some guest appearances, and a few other surprises that you will have to buy the video to see for yourself. As mentioned before, you can easily forget you are watching an instructional video when you watch all of the bonus footage included on the DVD. We think you will be very impressed with the riding in these sections. Visit Bump Films website to find out the code for the secret bonus section.

Conclusion
Snap is the best wakeskate instructional material on the market today and we highly recommend it to anyone that is interested in improving his or her wakeskating skills. The riders that Bump chose for this film are pushing the sport of wakeskating to areas that were once thought to be impossible. We feel that Bump represented the sport of wakeboarding perfectly with this film and showed how limitless wakeskating really is. We would like to have seen the riders taking the proper safety precautions throughout the entire video, especially since it was talked about so much. It is more of a "do as I say and not as I do" situation, but we were glad that they acknowledged the correct way. Snap will be a great tool for wakeskaters to use for many years to come. We recommend getting the DVD for the extra features and the quality that a DVD provides. You can visit www.bumpfilms.com for more information.

Buy It Now

Buy Snap now at Boardflix.com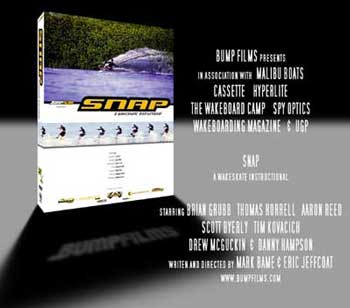 Comments?
Shop For Wakeskating Gear


Sidewayz Waketrix - DVD


Wakeboards


Ronix Wakeboards


Hyperlite Wakeboards


Liquid Force Wakeboards


Slingshot Wakeboards


CWB Wakeboards


Wakeboard Bindings


Ronix Bindings


Hyperlite Bindings


Liquid Force Bindings


Slingshot Bindings


CWB Bindings


Wakeboard Packages


Wakeskates


Wakesurf Boards