Home

All Articles

Wakeskate Guide

Discussion Forums

Features

Reviews

Trick Tips

Wakeskating History

Links

Link To Us

Wakeboarding

Wakesurfing

Wakeboards

Wakeboard Towers

Hyperlite Wakeskates

Liquid Force Wakeskates

Byerly Wakeskates

Buy Wakeboards

Ronix Wakeboards

Liquid Force Wakeboards

Buy Wakeskates

Wakeboard Towers

Wakepics

Wake Videos

Complete Longboards

Article Alert


Media Center

Pictures

Videos

Buy Wakeskate Videos


Grip Deck

Getting Up

Dock Start

Ollie

HS Wake Jump

TS Wake Jump

HS Backside 180

BS Pop Shuvit

FS Pop Shuvit

Surface 180 Shuvit

FS Bigspin

TS Shuvit to Indy

Kickflip


Advertise

Contribute Articles

Submit A Trick

Feedback Form

Visitor Feedback

About RSS
Understanding Esoteric
Date: 04-27-2007
Author: Wakeskating.com Staff
All photos: Jeff McMurtrie

In this day and age (and luckily for wakeskating), a byproduct that followed the increased accessibility of digital cameras and editing programs was a crop of wakeskaters that extended their involvement by taking responsibility for the documentation and presentation of their art form through filming and editing projects. In many cases, the riders have become the filmers and editors, slowly cultivating their talent and perfecting their art to a point where they can release a professional project that represents their tastes and ideals. In fact, wakeskating has benefitted from the vision of many riders turned videographers in a significant way, as the majority of wakeskating's "sport specific" videos have been created from the minds and cameras of the riders themselves. (Go on now, count your videos!) Most recently, David Hanson and Keith Lant of Scene One productions have put their talent and ideas into motion. Over a year in the making, Esoteric is their first full-length wakeskating release, or just their first full-length release whereby one must make an exchange of one's currency for this tangible good that is mass produced and designed for endless hours enjoyment.

The premise behind Esoteric was to hand select a group of riders (some of whom are established, while others possess a talent that isn't as widely known--yet), and allow them a time to shine in a professional fashion. The beauty of it is not only are many of the riders getting their first shot at a full-length part, but the style of filming is such that all facets of wakeskating will be put on display, demonstrating the synergy with which each form will compliment the next, resulting in the progression of the art as a whole.

After I had the chance to talk to David and Keith about this video, it's clear that a lot of work was put into this project in order to produce a progressive and respectable wakeskating video. And both have benefitted from their curiosity and dedication to improve their techniques, which has allowed them, not only as filmers, but as riders to make their creative vision a reality. They weren't afraid to make this film feel like there's something more than meets the eye, or go off the beaten path when it comes to angles and effects. What's more is at 19, they weren't against learning about the ins and outs of distribution, either.

The following is an interview with David and Keith about their new video. It's clear that some unique personalities are at hand (given the difference in approach when it came to answering my questions). But ultimately, one thing it comes down to is respect, and it's hard not to respect a couple of riders who have taken on the responsibility of representing their friends in a film, and wanting to do it the best way they can.


Wakeskating.com: When did your film company form and how did you get your filming and editing experience? And have you edited any larger videos, or is this your first big project?

David Hanson: The company I guess formed officially with the filming of this video. Keith and I started filming for it in early 2006, and so we were like a "team" I guess [laughs]. So then it actually took almost a year until we were like, "Hey, we should get a name." Scene One sounded cool, I guess we're kinda in our beginning stages of experience in this field, so Scene One had that same sort of vibe as a name.

The filming and editing experience Keith and I both had separately; we were both taking classes in high school about it, and also were learning from other people how to do everything. I pretty much just learned everything about it from my next door neighbor, which ended up being super convenient and a real blessing. I always thank him in every production I do because he is the reason I know how to do anything on Adobe. Thanks again, Mike! As far as filming experience, there are the obvious ways to film a wakeskate video, but we were able to do some cool stuff with Esoteric because Keith and I both have cameras, and we also have a waterhousing and a fisheye lens. So we were able to do some "experimental" type of shooting and still have someone keeping a solid shot from the boat or something, just so we didn't miss any tricks. We usually had two cameras running at all times. The shot variety in the video is great; we really wanted to make sure we didn't have too much of one angle.

As far as experience, this is our first video that is going to be for sale, like, legitimately [laughs]. I did a project called Silhouette that was a full-length video of the Narcoossee crew out here where we live, and that was real fun. But that was big, we filmed for like a year and then I edited the whole thing, made a bunch of DVDs, it was cool. That was definitely the biggest teacher for me. If I didn't have the experience I got from Silhouette there's no way I'd be able to make Esoteric. Also, we were always doing little video stuff for our classes in school and whatever, just random stuff here and there.

Keith Lant: Scene One formed in early 2006. This is my first wakeskate film, and I couldn't be more pumped.

How long have you guys wanted to make a video for wakeskating? Was there anything that inspired you to finally do it (ex: editors in other industries, more rider operated film companies in snowboarding, etc).

D.H.: I'd say ever since I finished Silhouette. By then I was kind of just getting to the stage where I was over wakeboarding (no offense, some of it is pretty cool still). Even then I was full-time wakeskating, but I didn't mind wakeboarding so much. By the time we decided to make Esoteric I wouldn't even pay any attention to wakeboarding at all, wouldn't watch video parts; I would only look at the pictures in a magazine of a wakeboarder if it was someone I knew or it was some cool rail shot or something. So I think just because wakeskating was consuming my mind so much that was really the only thing I was even interested in shooting.

As far as getting to the stage to actually commit to making it, originally after Silhouette, which premiered in December of 2005, and even probably a little bit before we premiered it, like while I was still editing it, I was thinking of other stuff I wanted to do. I wanted to just do something where I could film for a couple months, get some footy, and just make a project that was really for myself so that I could learn a bunch more editing techniques and DVD designs, artwork, graphics, and that type of stuff. I wasn't like, "Yeah, let's totally film for a year and make an amazing video." But then Keith got his camera that was amazing, we started filming and eventually were just like, "Well...do ya want to just make this and try to sell it and stuff?" So that's when we took it to that level. But basically it was just us being interested in two things: wakeskating and filming. There's something that's so exciting about catching a trick on film, and the filming vibe is awesome. But I would recommend to those filmers out there not to overdo it, otherwise the riders will stage a mutiny on your video, like Nick Taylor almost did with ours [laughs]. Totally kidding, Nick.

K.L: Dave and I had been talking about doing it for a little while, and we would just film here and there. Then around January of 06 we decided to make it official.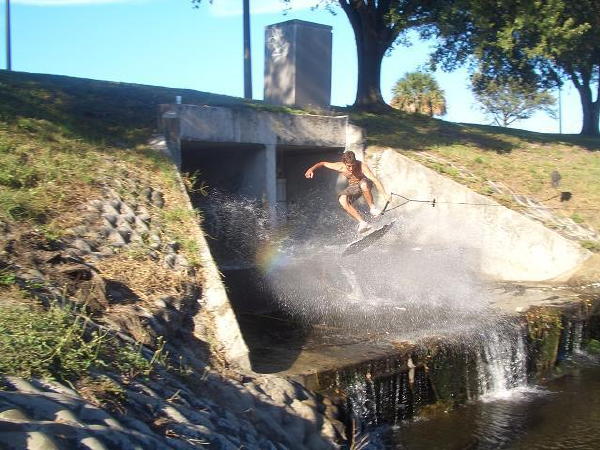 David Hanson, shuv down Anderson gap.

What meaning does the movie title hold for you, and how did you arrive at that particular name? And what were some rejected names?

D.H.: The word was actually something that Nick said one day. He has all this crazy vocabulary he always uses, and he threw that out and I didn't even know what it meant. I actually think we were talking about the "glassy, sunset, warm day, friends out sesh" where everything is right and wakeskating just releases all of your tension and anxiety about the world. It essentially becomes medicinal. We were talking about that stuff and he said something like, "Dude, it's just so esoteric." He had to explain what it meant, but then I was like, "That'd be an awesome video name!" half joking, because we actually had a pretty good name we were gonna use, which I'm not going to reveal, because we may still use it in a later project [laughs]. But I told Keith and he really liked it, so it kinda stuck. I'm really glad that's what we're calling it, cause I like it a lot. I think it's awesome too, because it kind of took our video in a different direction in a way. I started thinking deeply about wakeskating and how it affects people who do it, like why do people get so hooked on it, and that type of stuff. I'm really hoping to bring some of that "deeper" type of wakeskating vibe out in the video in one way or another. I hope people will get more out of it then just killer tricks.

K.L.: Some of the rejected names were some skateboarding terms like "over the bolts" and that sort of thing. The title of the movie fits it pretty well for us and the sport of wakeskating. The definition of esoteric is " understood by or meant for only the select few who have special knowledge or interest."

Based on what was shown in the movie trailer, you guys are taking a more artistic approach to the editing. Why are you taking that approach, as opposed to a more standard "cut and paste" edit style?

Also, does the editing style have any sort of connection to the movie title, since not everyone is really into the whole "artsy fartsy" video format?

D.H.: I guess I just really enjoy that type of stuff. I've been into art for pretty much my whole life, so it makes sense in my head to incorporate "artsy" type of stuff into this project, because I've seen past videos that do it and I think it looks dope. It gives a different feel to a video. At the same time, it's not probably as artsy as you might think though. It's nothing to the extent of what you would see in a video like Linear Perspective, which I really like, but it is a little more abstract I guess you could say than that cut and paste style you're talking about. The tricks remain the most important part, but I like the idea of using a bunch of different aspects in a video part to bring out the rider's own personality and style. And at the same time, we as producers and editors can create our own style as well.

As far as a connection to the title, I'd say yes, the title, once we finalized it, did kind of make me want to do some more "soulful" type of stuff, and make it a little more abstract. Plus, it's more fun to watch. I've always really liked the stuff that Attention Deficit and AVE do, so I'd say a lot of the editing will remind people of that, even the music.

K.L.: Well, because that would just get boring. Anyone can make a video on imovie and make a couple DVDs. But we wanted to make it so people would actually want to buy it. The footage in each riders' section, I would have to say, goes more with the title than the editing; we wanted to give a more lifestyle feel in their sections.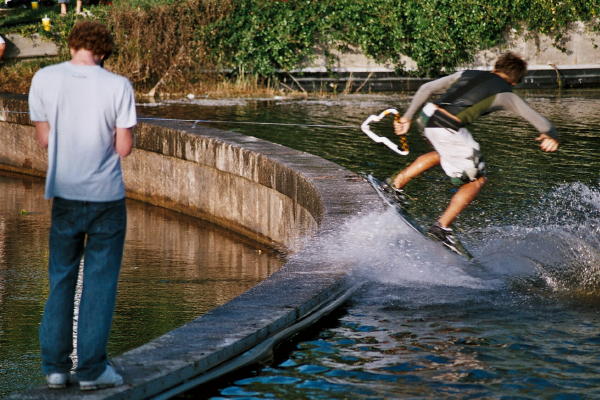 Nick Taylor, backside 180 down Metro West.

Is there anything in particular you're trying to showcase in the video? For example, things like new tricks, new locations, new styles...just anything that you feel hasn't been seen or really given enough attention in the past.

D.H.: I think mostly we're just trying to showcase the riders themselves. A lot of them have only had recognition in maybe contests, or just short clips here and there in videos and magazines. But I really wanted to choose these riders and then just make parts for them that are the most well-rounded video parts they could have. I think that that's the only fair way to do it, and that's also the reason we filmed for over a year. So I think that the riders are the main things we're showcasing. It wasn't really a decision to film "underground" wakeskaters or anything, but I just felt like these would be the riders to film. And someone like Stuart Shinn wasn't originally even going to have a full part but then started KILLING it all the time, and we got so much good stuff of him that the decision was quickly made to give him a full section, and it turned out awesome. I talk about his part a lot because of the fact that he is not a very well-known rider and has only had like a few tricks in Issue 4, that was pretty much the extent of his video appearances, and then when you see the last 30 seconds of his part, it's just ridiculous.

K.L.: We wanted to showcase the epicness of how fistpumps are suposed to be done. We wanted to showcase certain riders over a course of a year period.

Another aspect to the video that's a bit different is that you're going with a smaller group of riders and giving them the chance to put together an outstanding video section. What inspired you to go in this direction with the video? And did you arrive at the list of riders that you came up with?

D.H.: Well I kind of answered the first part of that above. But as far as choosing what riders we wanted to film, that kind of changed over time in some ways. Like Nick [Taylor] and Robbie [Brazell] weren't even originally going to be in it, and then now Nick has the ending part and Robbie's got some awesome stuff too; [he's] one of the most skateboard styled wakeskaters around. And then Stu's part like I talked about above.

But I came up with this list of people before we even started filming. I guess it was just riders that I liked to watch and that I knew had a lot of talent but hadn't really been seen in a full video part yet. Plus I wanted a good mix of styles, like we have Reed Hansen and Nick Taylor's flip trick shenanigans, but then we also have Philip Basino and Chase Connor's real smooth and fluid lines and switch stuff, so it showcased several different aspects of wakeskating. And then we have Kyle Hyams' super powerful riding, with him back bigging over huge obstacles and stuff. I think the rider mix is really good. It was mostly just people I wanted to film and I was friends with all of them beforehand anyway.

K.L.: We are really good friends with all these kids and wanted to showcase everything they could throw at us.



Clint Tompkins back lipping over the goose...

What makes Esoteric unique from the other videos out there? Is there anything you tried to do to differentiate yourselves from the other independent film makers out there, or did you just make a film that you'd want to watch?

D.H.: I think the quality in all areas is top notch, just because we spent so much time on it. We're both still pretty young and don't have too many bills to pay or anything, so we weren't rushing to get it out the door and sacrifice quality and creativity. There are awesome shots, awesome tricks, great footage quality, unbelievable riding. There's all different styles and forms of wakeskating in there (winching, wake stuff, flip tricks, lines, etc), and I think the video does a good job in showcasing how each of these different styles and interpretations of wakeskating helps push the sport in a good direction.

We obviously did want to stick out from the rest of the crowd, and I think that just through the efforts that we took to get good tricks and sick shots, it'll happen. There's also some pretty different music in it: my part sounds something like an Irish drinking song, Robbie and Philip's part's song is really Spanish sounding [laughs], and the friends section...well if there's not people dancing on stage during the premiere then I have failed this video miserably [laughs].

K.L.: We just wanted to show everybody some new riders out there, and show every one what they are made of.

What was the most difficult obstacle you had to overcome to make this video? And on a similar note, do you have any advice for any other aspiring film makers in wakeskating?

D.H.: It was hard to get everything going sometimes. Keith and I both go to school full-time and work. So filming can get tough to fit in. We pretty much just had to make it a top priority. And then on top of that, all of the riders themselves have their own schedules you have to work out. That's another reason why it took so long. And then now I'm living at UCF and my editing computer is at my parent's house like 25 minutes away, so if I want to edit, I have to come all the way back here because I didn't want to risk messing my computer up at school. Editing can be tedious; it's so hard to be satisfied with what you make [laughs].

Also, we've never done a video to this magnitude before, so we had to figure everything out as far as like selling it and stuff. So that took some time, but I think we're on the right track now. Also, just to get the video to have good enough footage to make it mean something in the industry took a long time.

My advice to film makers is that YOU have to be the motivator. Get stuff done and be assertive, but at the same time keep in mind that you don't at all want to ruin a rider's style by being too pushy or telling them what to do. You are there to showcase their riding, not make them your puppet. So let them ride, and you just film. I never like telling the riders what to do; I want them to decide. Of course, sometimes you have to nudge people along a bit, or remind them of something they can do that you'd like to get on film. But definitely keep the vibes good most of all, have fun, and don't be pushy, cause then the riders won't want to film with you again, and without the riders there's no video...

K.L.: Getting Robbie Brazell to leave Deli Planet, and to get Chase Connor on the water was definitely the hardest part of this video. Don't ever talk to Robbie Brazell about doing a wakeskate video or wakeskating in general. But WE still love him with all of our hearts. Also, try to get as many raley based moves in your movie as possible.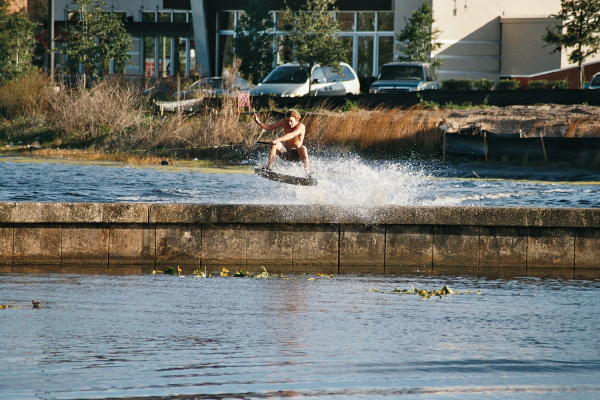 Stu Shinn, Metro West 180.

Have any release dates been projected yet? Any immediate plans for the premiere for Esoteric?

D.H.: Keith and I are finishing up editing all the sections now. We're starting to get some artwork done, and we've already talked to Sidewayz about distributing and selling the video. So I think we'll be set for probably a mid-May release, especially because we have another project coming up in late May [laughs]. Hopefully we can premiere it before then though. We thought we'd be done months ago... so it goes. But as far as premieres, I want everyone to come [laughs]. We'll probably just do something in Orlando for it--sorry for all you out-of-towners fed up with Orlando...

Any last words and thank yous?

D.H.: I gotta thank the riders for all their hard work for this video, for taking us seriously and working their hardest to get good footage. I can't count how many tricks some of the riders landed for the first time ever while we were filming. That feeling right there lets me know we're doing something right. Also our families for always supporting us and believing in us, everyone that has helped out driving or anything; Johnny I know I HAVE to put your name here [laughs]. Jenny Gillanfar for her artwork, logos, and design work, Jeff McMurtrie for his photography for the video and Oak Wakeskates for their support. Also, everyone at Sidewayz that have been ever so helpful, and to the people that we've gotten advice and help from for our editing and camera problems. And of course, God for his blessings and for giving us this amazing opportunity. My only last words are to Keith: sorry for taking this interview so seriously, but I do agree with that raley thing.

K.L.: That's what she said.... no really, I would like to thank every one who has helped me out along the way, especially my parents, all the riders, Darren Manzari, oh and Silias for helping me finish this interview on his computer.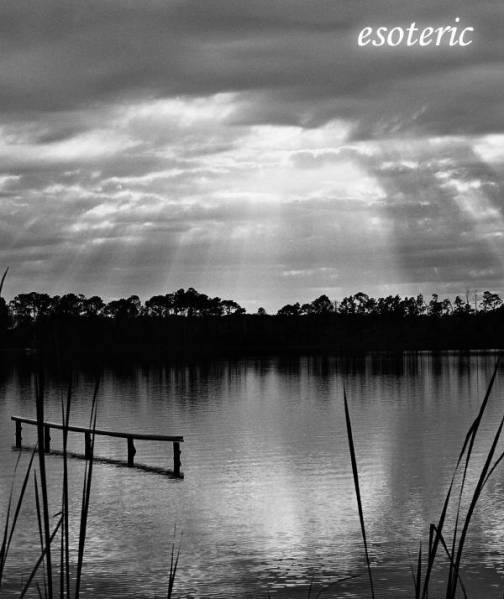 Comments?
Shop For Wakeskating Gear


Wakeboards


Ronix Wakeboards


Hyperlite Wakeboards


Liquid Force Wakeboards


Slingshot Wakeboards


CWB Wakeboards


Wakeboard Bindings


Ronix Bindings


Hyperlite Bindings


Liquid Force Bindings


Slingshot Bindings


CWB Bindings


Wakeboard Packages


Wakeskates


Wakesurf Boards