Home

All Articles

Wakeskate Guide

Discussion Forums

Features

Reviews

Trick Tips

Wakeskating History

Links

Link To Us

Wakeboarding

Wakesurfing

Wakeboards

Wakeboard Towers

Hyperlite Wakeskates

Liquid Force Wakeskates

Byerly Wakeskates

Buy Wakeboards

Ronix Wakeboards

Liquid Force Wakeboards

Buy Wakeskates

Wakeboard Towers

Wakepics

Wake Videos

Complete Longboards

Article Alert


Media Center

Pictures

Videos

Buy Wakeskate Videos


Grip Deck

Getting Up

Dock Start

Ollie

HS Wake Jump

TS Wake Jump

HS Backside 180

BS Pop Shuvit

FS Pop Shuvit

Surface 180 Shuvit

FS Bigspin

TS Shuvit to Indy

Kickflip


Advertise

Contribute Articles

Submit A Trick

Feedback Form

Visitor Feedback

About RSS
Lost And Found: The First Fresh Water Wakeskate

Author: Wakeskating.com Staff
Date: 10-24-2006

So this story dates back to the summer of 69, when the days were long, the water was cool, and the nights were hot…

Just kidding. This account dates back to c.1997, when Stan Pleskunas shaped the first wakeskate that would be branded with the Fresh Water name. It was a high-end shred sled consisting of a PBT bottom, a foam top, and Fresh Water's traction pads mounted on top for leverage and maximum board control. It also had an advanced core construction with unique materials that made the board lively and snappy, all of which made this board well ahead of its time.

Still, new riders may snicker at a soft top or traction pads, but that equipment was the vehicle that was used to get people to understand wakeskating. Promise was not a widespread view, and many people were concerned about the unknowns of safety when it came to riding without bindings. So before a more rigid set-up could be introduced, "bindingless wakeboarding" had to be ushered in with appropriate equipment, which allowed those who understood its potential to progress and promote it in the best way possible.

Jason would go on to have this famous board photographed as he helped orchestrate wakeskating's first documented jib sessions on Castaic lake on November 29th, 1997. Close friend, Derry Malloy would incite and eventually photograph this historic session, but his ties to this board would not end there.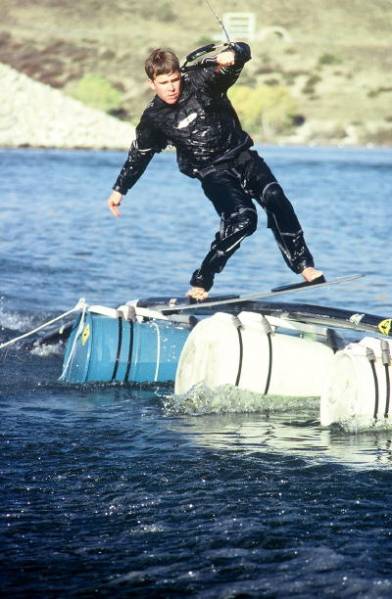 Jibbing with Jason Messer...

Months later, Jason would send this board to Thomas Horrell when wakeskating was playing a larger role in his on-the-water time. Thomas would ride this board into third place at one of the Florida X-Cup comps in March of 1998, which were the first wakeskating events to be sanctioned by the WWA (and some of the first wakeskating competitions, period). Thomas' shoeless exploits would not last long, and he would go on to popularize the skate shoe/grip tape trend in wakeskating.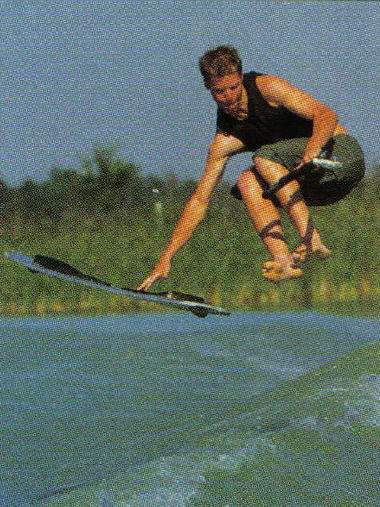 Thomas Horrell grabbing for the magic carpet. (Photo by Ben Webb, courtesy of Wakeboarding Magazine.)

Many years have passed since these influential riders shredded the water on this rare and original wakeskate. So, where is this board now? It's in the hands of Fresh Water Traction supporter and long time Messer bro, Derry Malloy. Some time ago, Derry promised Jason that this wakeskate would remain in good hands, and this much is true. But Derry's not afraid to turn back the clock and shred it like it's nineteen ninety...seven.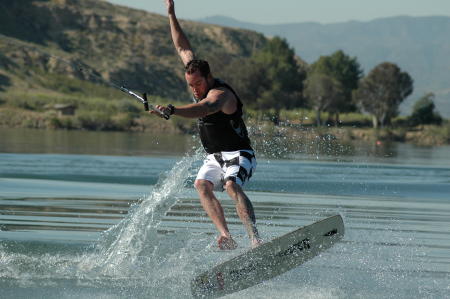 Derry's barefoot shuvs...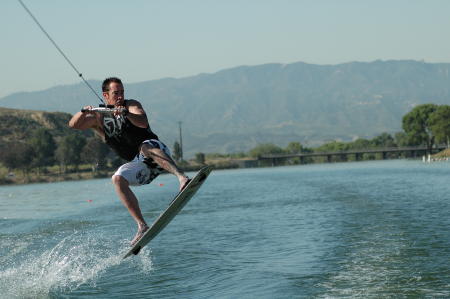 Derry takes a break from the flatland and launches off the wake.


Comments?
Shop For Wakeskating Gear

Hyperlite Girls Child Indy Vest Purple

Liquid Force 2018 Trip 142 Wakeboard

Accurate 20ft Wakesurf Rope and Handle

Liquid Force The Debut Wakeboard Film - DVD

Phase 5 Deluxe Travel Wakesurf Board Bag


Wakeboards


Ronix Wakeboards


Hyperlite Wakeboards


Liquid Force Wakeboards


Slingshot Wakeboards


CWB Wakeboards


Wakeboard Bindings


Ronix Bindings


Hyperlite Bindings


Liquid Force Bindings


Slingshot Bindings


CWB Bindings


Wakeboard Packages


Wakeskates


Wakesurf Boards