Home

All Articles

Wakeskate Guide

Discussion Forums

Features

Reviews

Trick Tips

Wakeskating History

Links

Link To Us

Wakeboarding

Wakesurfing

Wakeboards

Wakeboard Towers

Hyperlite Wakeskates

Liquid Force Wakeskates

Byerly Wakeskates

Buy Wakeboards

Ronix Wakeboards

Liquid Force Wakeboards

Buy Wakeskates

Wakeboard Towers

Wakepics

Wake Videos

Complete Longboards

Article Alert


Media Center

Pictures

Videos

Buy Wakeskate Videos


Grip Deck

Getting Up

Dock Start

Ollie

HS Wake Jump

TS Wake Jump

HS Backside 180

BS Pop Shuvit

FS Pop Shuvit

Surface 180 Shuvit

FS Bigspin

TS Shuvit to Indy

Kickflip


Advertise

Contribute Articles

Submit A Trick

Feedback Form

Visitor Feedback

About RSS
Wakeskate Review: The 06 Omen Revolt, The 05 Cassette Bi-Level and The 05 Integrity Lemons

By: OG AKA Nekkie
05-19-2006

After seeing so many posts on what board to get, or what is the best board and so on, I figured I could give an honest opinion on the subject of boards I have actually ridden and gave a real try for a while. I have tried many different decks but will narrow it down to three options: the Bi Level from Cassette, the Lemons from Integrity and the Revolt from Omen. Why no classic wood concaves in there? Because they are pretty much ALL the same and don't really push it or innovate. Sure, some are more durable than another, or have a different concave, or are asymmetrical, etc. but they are always the same good old concaves. Then you have the Hyperlite decks...I tried those--the Catalyst and Byerly--and I am sorry, but they are no less than cut down wakeboards using old modded Hyperlite wakeboard molds (lol). Maybe that's a little too much, but I really hated how they rode and I give mad props to the Hype skate team for being such rippers on those decks!! A friend recently got a Liquid Force deck, I think it was an Armada. And it was funny how bad it rode, seriously...

So now you all know why I chose to compare those 3 decks and no others.

The first thing you notice when riding a board is the top concave and how you can set up your feet. On the Bi Level the kick tails are really radical, just like a regular skate and that's a big plus, I just loved it. But you have big screws popping out and those got in the way sometimes. For the Lemons, the pre-kicks are something you either like or don't. The ones for the back foot are great but I couldn't seem to find the ideal spot for my front foot. It's not really a problem, just something you need to feel to see if you like it or not. The Omen concave is in between the two. It is really deep like the Bi Level, but it doesn't have any pre-kicks. When you first ride it, the tail seems a bit short and it feels like if you want the most leverage out of it, you'll need to have your foot pretty close to the edge. I usually don't like that, since it makes me that much closer to a split. But then I figured out that it is one of the Revolt's little secrets and that I should not fear it. (Hahah, I'll come back to this later.)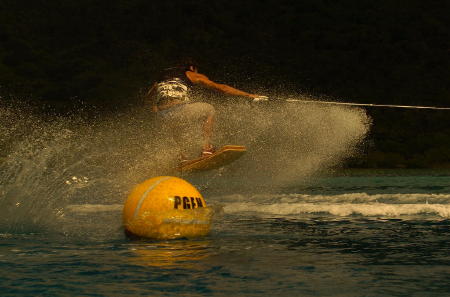 Author OG ollies over mutant tennis balls...

So you're out of the water and are feeling comfy on that concave top. You edge out and that's where the rocker and edges come in. On that part you just can't do any better than the Integrity or the Omen: they both have re-shapeable rails so you can make it ride just like you want it, sharp and snappy or rounded and more mellow--it's up to you! The Bi Level is your regular wood concave on the water while edging. Nothing too special, besides the fact that you feel much higher on the water (more like a skate there). That is again, a love or hate thing.

With wake to wake riding, I think it is way more of a rider thing than the board. All three are really good for that. The Bi weight is actually very good for wake to wake stuff. The Integrity really stays close to the feet, and well the Omen, you just have to see how huge Pete and Drew go on it to know it's got what it takes for going wake to wake!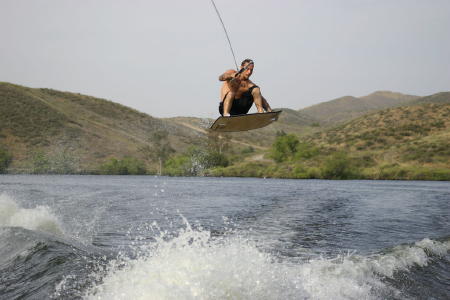 Omen rider Pete Ward going wake to wake without bindings.

For all the lip and tech stuff like shuvs and flips, I think I like the Bi level and the Omen just the same. In my opinion, that has to be because they are wood decks; I just love the feel of wood on the water. The Bi is a trick machine but there is a BIG problem with it, and I'll come to that later. The Integrity can be popped damn high like Chris Barcellos does on that shot. I really LOVED how my Omen spun on shuv tricks. I think having Justin Scott on the team while designing the Revolt made it into a mean lip/tech tricks machine. And this is where something lies that I only saw on the Omen. After my second run on it I moved my feet back some more up the kick tail and I got the biggest push from a deck I ever got, even more than the Bi! I was pretty stoked on that massive ollie! And with the ollie motion the back foot stays where it's at so it didn't feel at all like I could split from having my foot back too much.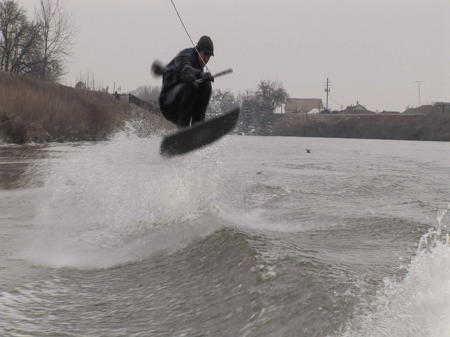 Chris Barcellos, all high on pop rocks, Coca Cola, and massive re-entry shuvs.

So here are my final thoughts on those three decks. The Bi Level is probably by far the most innovative concept out there and it works damn well... for five rides. So If I could ride a brand new Bi Level every four runs or so it would be the best board out there... it just doesn't keep its pop and will break in two in no time. I know Thomas changed a lot of stuff for 06 and they should be more durable, but it still is a plain wooden deck and WILL break/delam/take water fast! When I was in LA last weekend we did a crazy winch session where you would land on concrete in four inches of water. Needless to say, the only boards that held up were the Integrity and the Omen. So just for that fact, the Bi Level can't be the best skate out there, even though it can ride like it!

I know you probably want a definite answer between the last two decks, but I'm sorry, you wont get one :) They are too different to say that one has to be better than the other. If you like the wood feel on the water then the Omen is probably more suited to your style. For me, the board weight is important, and the Omen, being between the Cassette and the Integrity, is just perfect for my tastes! Heck, mine is even heavier than what production boards will be!

If you have the cash and the love try supporting both Integrity and Omen, they are WELL worth it with those crazy decks they have put out! If not, then pick one, but try to ride each before you make your purchase, because you WILL like one more than the other since they don't ride the same. I know I made my choice...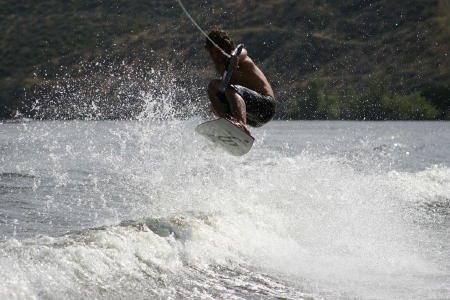 Justin Scott, bustin' it...sorry about that.


Comments?
Shop For Wakeskating Gear



Wakeboards


Ronix Wakeboards


Hyperlite Wakeboards


Liquid Force Wakeboards


Slingshot Wakeboards


CWB Wakeboards


Wakeboard Bindings


Ronix Bindings


Hyperlite Bindings


Liquid Force Bindings


Slingshot Bindings


CWB Bindings


Wakeboard Packages


Wakeskates


Wakesurf Boards