Home

All Articles

Wakeskate Guide

Discussion Forums

Features

Reviews

Trick Tips

Wakeskating History

Links

Link To Us

Wakeboarding

Wakesurfing

Wakeboards

Wakeboard Towers

Hyperlite Wakeskates

Liquid Force Wakeskates

Byerly Wakeskates

Buy Wakeboards

Ronix Wakeboards

Liquid Force Wakeboards

Buy Wakeskates

Wakeboard Towers

Wakepics

Wake Videos

Complete Longboards

Article Alert


Media Center

Pictures

Videos

Buy Wakeskate Videos


Grip Deck

Getting Up

Dock Start

Ollie

HS Wake Jump

TS Wake Jump

HS Backside 180

BS Pop Shuvit

FS Pop Shuvit

Surface 180 Shuvit

FS Bigspin

TS Shuvit to Indy

Kickflip


Advertise

Contribute Articles

Submit A Trick

Feedback Form

Visitor Feedback

About RSS
Such Is Life Review
By: Evan Park

Riders: Keith Lyman, Danny Hampson, Gerry Nunn, Scott Byerly, P-Unit, George Daniels, Philip Soven, Team Integrity, Jeff Weatherall, Brain Grubb, and Ben Greenwood

Filmed and Edited by : Ronn Seidenglanz and the guys at Sidewayz.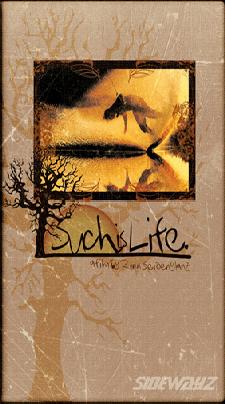 Hello everyone, this is my review of the much anticipated video by Ronn Seidenglanz and Sideways, entitled "Such is Life." Any film by Ronn is highly anticipated and it showed again this time as the hype generated by this video included magazine ads, interviews and even its own website that was created by Sidewayz.com. With all the press surrounding this video I was expecting to see something close to a masterpiece and Ronn did not let me down. Such Is Life is by far my favorite wakeskating/wakeboarding video in my collection.

One of the biggest things that stood out to me was that it did not have the same storyboard layout that many other videos out there have been based on. It wasn't a 100% riding video and included many lifestyle scenes that I think wakeboarding videos have really been lacking. My favorite overall board sports video is a snowboarding flick by Robotfood called "Afterlame." The parts that I've always liked best about it were the lifestyle, "goofing around" type footage that really made the video fun to watch. I feel that Ronn really did capture the life of the riders and really opened up a new direction of wake videos.

There is definitely not a shortage of wakeskating in this video. When you think of combo videos (wakeboarding and wakeskating) they usually have about 75% wakeboarding and 25% wakeskating, but you can tell that Ronn has much love for the wakeskaters. There are a good five full sections of wakeskating in the main part of the video. Ronn covers the pool slider event and the riding at Wakestock, as well as George Daniels, Team Integrity, Danny Hampson and a hand full of riders hitting the pool slider at the Projects.

I was happily surprised to see some decent footage from the 2004 Wakestock event on Wagasa Beach, Ontario, Canada. It jumps between the pool event and the boat riding, and really shows that George Daniels had the skills to take the podium. George Daniels also had his own section in the video which is amazing. I was not expecting half of the stuff he did in his section. GD stomped a phat (yes I said phat) line consisting of a front side flip, varial flip, re-entry kick flip and backside big spin.

The Integrity combo, Nick Taylor and Ryan lemons, throw down some huge tricks. Huge might be an understatement when it comes to Nick Taylor, the kid shreds like no other and he shows it in his section with hard flips and 360 flips. Danny Hampson's section was really fun to watch. The first part of his section is a build up to his main riding section. Danny shows he can even shred with out wearing shoes which was pretty funny to watch.

The extra's section of the video didn't disappoint either. Ronn put together a 25 minute bonus video called Concourse B that consisted of riding from Byerly, Grubb and coverage of the Byerly Toe Jam. Watching the footage of Grubb and Byerly, you can really see how much experience they have in the sport. They both portray there styles of riding very well, but Grubb's wake to wake stuff was most noticeable. The kid has skills on the wakes.

The one downside I found to this video was how much random footage was in it. I found on many occasions I had to fast forward minutes of video that had absolutely nothing to do with wakeboarding/wakeskating. Then again the, video was titled "Such is Life," so I guess Ronn was really trying to show not just the life of the riders but life itself.

In conclusion, this video is amazing and I really suggest you add it to your video library. It will surely keep me pumped in this cold Canadian off season while I'm waiting to get back on the water.

Buy It Now

Buy "Such Is Life" At Boardstop.com

Comments?
Shop For Wakeskating Gear


Wakeboards


Ronix Wakeboards


Hyperlite Wakeboards


Liquid Force Wakeboards


Slingshot Wakeboards


CWB Wakeboards


Wakeboard Bindings


Ronix Bindings


Hyperlite Bindings


Liquid Force Bindings


Slingshot Bindings


CWB Bindings


Wakeboard Packages


Wakeskates


Wakesurf Boards