Home

All Articles

Wakeskate Guide

Discussion Forums

Features

Reviews

Trick Tips

Wakeskating History

Links

Link To Us

Wakeboarding

Wakesurfing

Wakeboards

Wakeboard Towers

Hyperlite Wakeskates

Liquid Force Wakeskates

Byerly Wakeskates

Buy Wakeboards

Ronix Wakeboards

Liquid Force Wakeboards

Buy Wakeskates

Wakeboard Towers

Wakepics

Wake Videos

Complete Longboards

Article Alert


Media Center

Pictures

Videos

Buy Wakeskate Videos


Grip Deck

Getting Up

Dock Start

Ollie

HS Wake Jump

TS Wake Jump

HS Backside 180

BS Pop Shuvit

FS Pop Shuvit

Surface 180 Shuvit

FS Bigspin

TS Shuvit to Indy

Kickflip


Advertise

Contribute Articles

Submit A Trick

Feedback Form

Visitor Feedback

About RSS
Jetpilot Stylus Hydro Shoe
New for 2005, Jetpilot recently released the Stylus Hydro Shoe. This shoe was designed to be an all around water shoe, but because of the features the shoe has to offer, we thought it would make a great wakeskate shoe.

Jetpilot took what they know about creating products specifically for use in the water and added those features to the basic model of today's most popular and durable skateboarding shoes.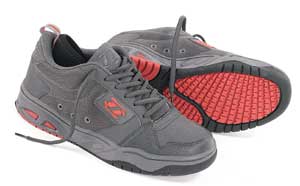 The Jetpilot Sylus Hydro shoe is loaded with features such as the perforated rubberized synthetic leather toe and heel panels. These panels are designed to not soak up water and will also help battle the harsh effects of grip tape. The shoe also includes open mesh side panels to allow more drainage and to make the shoe lighter and is finished off with a rugged skate shoe sole that is still safe to wear on the boat without fear of leaving marks.

On the inside, the Stylus shoe features a neoprene sock and padded tounge for added support and comfort. Removable padded insoles were also included for added comfort, but also for the option to remove the insole when drying. For even more comfort on your heels, there is a heel air cushion.

Stylus Hydro Features:

Lace up cinch tie

Inner neoprene forefoot support sock

Padded tongue with elastic support straps

Perforated rubberized synthetic leather toe and heel panels(won't soak up water)

Open mesh side panels with nylon thread reinforcements

Multiple side drainage eyelets

Removeable padded insole

Non-marking cupped "Skate Sole"

Interior heel air cushion

Buy Them Now At Boardstop

Buy the Jetpilot Stylus Hydro Shoes

Comments?
Shop For Wakeskating Gear

Inland Surfer Large Wakesurf Bag for Inland Surfer Wakesurf Boards



Wakeboards


Ronix Wakeboards


Hyperlite Wakeboards


Liquid Force Wakeboards


Slingshot Wakeboards


CWB Wakeboards


Wakeboard Bindings


Ronix Bindings


Hyperlite Bindings


Liquid Force Bindings


Slingshot Bindings


CWB Bindings


Wakeboard Packages


Wakeskates


Wakesurf Boards