Home

All Articles

Wakeskate Guide

Discussion Forums

Features

Reviews

Trick Tips

Wakeskating History

Links

Link To Us

Wakeboarding

Wakesurfing

Wakeboards

Wakeboard Towers

Hyperlite Wakeskates

Liquid Force Wakeskates

Byerly Wakeskates

Buy Wakeboards

Ronix Wakeboards

Liquid Force Wakeboards

Buy Wakeskates

Wakeboard Towers

Wakepics

Wake Videos

Complete Longboards

Article Alert


Media Center

Pictures

Videos

Buy Wakeskate Videos


Grip Deck

Getting Up

Dock Start

Ollie

HS Wake Jump

TS Wake Jump

HS Backside 180

BS Pop Shuvit

FS Pop Shuvit

Surface 180 Shuvit

FS Bigspin

TS Shuvit to Indy

Kickflip


Advertise

Contribute Articles

Submit A Trick

Feedback Form

Visitor Feedback

About RSS
Thomas Horrell Talks About The 4 Track

By: Dave Barousse

Thomas Horell and the Cassette Team have dropped another bombshell on the wakeskating industry with the design of the new 4 Track. For me, I didn't hear too much about this board and it kind of mysteriously popped up one day. Apparently, this was the case for most of the visitors to the site because we have had numerous emails concerning questions about the Cassette 4 Track. To keep us from looking like a bunch of idiots (although we are), we decided to let Thomas answer a few of these questions instead of us totally wrecking the concept behind this board.

Below is a compiled list of the most asked questions we received that Thomas so kindly answered for us. His answers sure have me excited about riding this board, and I hope you all will feel the same.

1. What is the difference between the four track and a regular 3D?

TH: There are actually a lot of differences between the 4trac and the regular concave decks. The 4trac is a 42" board, not just a different size than the other concaves but an entirely new contoured kick concave and rail profile. It's shape is another first for wakeskating, the board is actually a-symmetrical, like a skateboard, more width in the nose, (better for nose slides and switch pops when your riding the 2 fin setup).

2. Why is the 4 track so much more expensive?

TH: New fins, G-10 super strong for locking in the different type of sliding this board was designed for.

3. Why would you want to put two fins side by side on the board?

TH: Cause they just looked so cool like that! Uhh, look at the picture of Aaron Reed in the latest WBM.

4. Should I get a 4 track or a regular 3D if I'm not going to do any sliding?

TH: If your not going to be doing any sliding, you can ride this board like a regular setup. I feel that it's shape is the best thing out there right now.

5. Are the four track fins stronger than the regular fins?

TH: Yes, G-10 Teflon coated polyethylene on hit....booyaka!

6. How strong is the four track compared to regular Cassettes because I don't want to spend that much money and break it soon after?

TH: This board is not going to break. We're using some new tech right now where we've got some stronger laminates in the middle layers of the board.......oh yeah!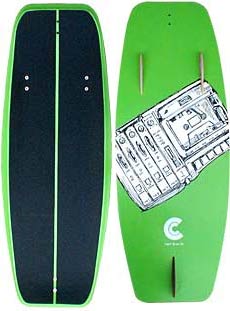 We would like to thank Thomas for taking the time to answer these questions for us and also for brining us all a better board to ride. For more information about the Cassette 4 Track or Cassette Wakeskates, you can visit their website at www.cassettewakeskates.com.


Buy It Now At Boardstop.com

Comments?
Shop For Wakeskating Gear

Sidewayz Natural Born Thrillaz - DVD

Accurate 20ft Wakesurf Rope and Handle



Wakeboards


Ronix Wakeboards


Hyperlite Wakeboards


Liquid Force Wakeboards


Slingshot Wakeboards


CWB Wakeboards


Wakeboard Bindings


Ronix Bindings


Hyperlite Bindings


Liquid Force Bindings


Slingshot Bindings


CWB Bindings


Wakeboard Packages


Wakeskates


Wakesurf Boards