Home

All Articles

Wakeskate Guide

Discussion Forums

Features

Reviews

Trick Tips

Wakeskating History

Links

Link To Us

Wakeboarding

Wakesurfing

Wakeboards

Wakeboard Towers

Hyperlite Wakeskates

Liquid Force Wakeskates

Byerly Wakeskates

Buy Wakeboards

Ronix Wakeboards

Liquid Force Wakeboards

Buy Wakeskates

Wakeboard Towers

Wakepics

Wake Videos

Complete Longboards

Article Alert


Media Center

Pictures

Videos

Buy Wakeskate Videos


Grip Deck

Getting Up

Dock Start

Ollie

HS Wake Jump

TS Wake Jump

HS Backside 180

BS Pop Shuvit

FS Pop Shuvit

Surface 180 Shuvit

FS Bigspin

TS Shuvit to Indy

Kickflip


Advertise

Contribute Articles

Submit A Trick

Feedback Form

Visitor Feedback

About RSS
Cassette Bi-Levels Are Now Shipping At Boardstop
The first batch of Cassette Bi-Level wakeskates have arrived at Boardstop and are now shipping. Preordered Bi-level wakeskates will start shipping to customers today. The remaining decks will be available on a first come, first serve basis. So get yours now from Boardstop while supply last.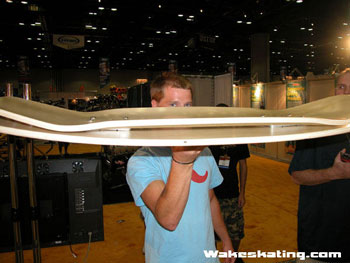 Cassette is once again setting new trends in the wakeskating world by introducing a Bi-Level design in 2005. The Bi-Level, co-conceptualized by Thomas Horrell and Bryan Dawley, is the first wakeskate of it's kind and is expected to reintroduce the sport of wakeskating. Bi-level is not just a name, there ae actually two levels to this deck. 1/8th inch mounts attach the top and bottom decks together in two mounting areas, which cause a fulcrum effect that, accelerates the board's lift from the water.

"Aaron Reed, Danny Hampson, Bryan Dawley and I have been extremely involved in the testing of this deck and I can't believe the results we're getting," quotes Thomas Horrell.

"We've been playing around with hydrodynamic concepts for the last two years and figured out that it wasn't about using the surface of the water to get more pop, it was about using leverage between the boards and snapping the tail of the top deck onto the harder top surface of the bottom deck", quotes Bryan Dawley.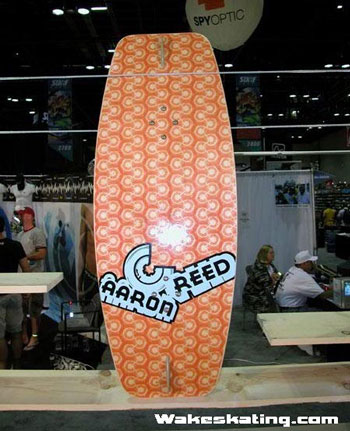 Buy a Bi-Level Wakeskate From Boardstop

Comments?
Shop For Wakeskating Gear

CWB 2013 Jive 137 Wakeboard



Wakeboards


Ronix Wakeboards


Hyperlite Wakeboards


Liquid Force Wakeboards


Slingshot Wakeboards


CWB Wakeboards


Wakeboard Bindings


Ronix Bindings


Hyperlite Bindings


Liquid Force Bindings


Slingshot Bindings


CWB Bindings


Wakeboard Packages


Wakeskates


Wakesurf Boards