Home

All Articles

Wakeskate Guide

Discussion Forums

Features

Reviews

Trick Tips

Wakeskating History

Links

Link To Us

Wakeboarding

Wakesurfing

Wakeboards

Wakeboard Towers

Hyperlite Wakeskates

Liquid Force Wakeskates

Byerly Wakeskates

Buy Wakeboards

Ronix Wakeboards

Liquid Force Wakeboards

Buy Wakeskates

Wakeboard Towers

Wakepics

Wake Videos

Complete Longboards

Article Alert


Media Center

Pictures

Videos

Buy Wakeskate Videos


Grip Deck

Getting Up

Dock Start

Ollie

HS Wake Jump

TS Wake Jump

HS Backside 180

BS Pop Shuvit

FS Pop Shuvit

Surface 180 Shuvit

FS Bigspin

TS Shuvit to Indy

Kickflip


Advertise

Contribute Articles

Submit A Trick

Feedback Form

Visitor Feedback

About RSS
Liberation 42" Finless Composite Wakeskate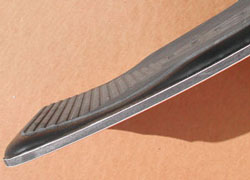 Liberation has just released their new 42" composite wakeskate. The skate has the first true kick tail that closely resembles that of a skateboard, your entire foot fits on the tail without interference from the concave. The concave has been moved all the way out to the edge for maximum leverage when doing flip tricks. Two deep hooked rails in addition to the 1/8" molded hooked fins keep the board tracking straight and give it great edge hold when cutting at the wake. A modified 3-stage rocker helps give the skate outstanding ollie/pop in the flats and off the wake. One of the greatest features is the sidewall that runs at the parting line tip to tail. These sidewalls are completely re-shapeable to meet the individual needs of each rider. If you want to have rounded edges between your feet for less catch when hitting sliders and sharper edges in the tip and tail for cutting at the wake, it is possible! Easily re-shapeable using a hand file or sand paper, even a router if you are skilled enough! In addition the wider tip and tails keep your toes from dragging and give the board more surface area for better pop. Comes with your choice of super grippy Liberation molded EVA top or standard skate grip tape.


Liberation 42" Finless Composite
Board Specs
Length: 42"
Mid Width: 15.5"
Tip/Tail: 12"
Rocker: 2" 3-stage
Weight: 6.5lbs
Grip Surface: Molded EVA or Grip tape
MSRP: $275.00 USD
Board Construction
Core: Foam with wood stringers tip to tail
Top sheet: 4001 Durasurf
Base sheet: 4001 Durasurf
Sidewalls: 4001 Durasurf
Fiberglass: Layered/Stitched 24oz Tri-Axial


These skate are available now. Contact your local Liberation dealer or Liberation directly on the web at Liberationsports.com

Comments?
Shop For Wakeskating Gear

Liquid Force Core Helmet

Hyperlite 2013 Webb 140 Wakeboard


Wakeboards


Ronix Wakeboards


Hyperlite Wakeboards


Liquid Force Wakeboards


Slingshot Wakeboards


CWB Wakeboards


Wakeboard Bindings


Ronix Bindings


Hyperlite Bindings


Liquid Force Bindings


Slingshot Bindings


CWB Bindings


Wakeboard Packages


Wakeskates


Wakesurf Boards