Home

All Articles

Wakeskate Guide

Discussion Forums

Features

Reviews

Trick Tips

Wakeskating History

Links

Link To Us

Wakeboarding

Wakesurfing

Wakeboards

Wakeboard Towers

Hyperlite Wakeskates

Liquid Force Wakeskates

Byerly Wakeskates

Buy Wakeboards

Ronix Wakeboards

Liquid Force Wakeboards

Buy Wakeskates

Wakeboard Towers

Wakepics

Wake Videos

Complete Longboards

Article Alert


Media Center

Pictures

Videos

Buy Wakeskate Videos


Grip Deck

Getting Up

Dock Start

Ollie

HS Wake Jump

TS Wake Jump

HS Backside 180

BS Pop Shuvit

FS Pop Shuvit

Surface 180 Shuvit

FS Bigspin

TS Shuvit to Indy

Kickflip


Advertise

Contribute Articles

Submit A Trick

Feedback Form

Visitor Feedback

About RSS
Reef Byerly Wakeskate Shoe Review
Author: Jacob Sagemuehl

Until the beginning of last summer I had wakeskated only a handful of times, and only one of those times being on a "real" wakeskate. The rest of the time I was on an old blank Nectar. Last summer I grabbed a real skate, got into it more and more, and eventually ended up really falling in love with it. In fact, I wakeskate so much now that wakeboarding has become a very rare occurrence for me.

Rather than continue to wear out my old Vans in the water, I decided to get a pair of wakeskate specific shoes. I have a pair of Reefís Slap sandals that have been holding up well for almost three years now, so Iím familiar with the quality of Reef products. Keeping this in mind, and the fact that Iíve been a Byerly fan (or pro ho, as the kids like to say) since day one, I decided to go with the Byerly wakeskate shoe.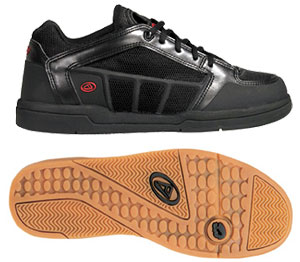 The main features of the shoe are its CMEVA sole, mesh construction, and high abrasion toecap. Some nice subtle features are drainage holes in the sole and aluminum tipped laces. The shoes also have flotation in the tongue which Reef touts as a main feature. This is somewhat redundant when considering the soles float the shoes anyway.

The Byerlys originally came in three colors: black, navy/gum, and white/blue. With the popularity of the shoe, this year Reef added grey to further cater to varying styles. Overall, the shoes are quite functional. They stick well to both forms of grip (tape or foam), drain very well, and they arenít weighed down heavily. The shoes also dry relatively quickly, but itís nothing that would make Marty McFly jealous.

Some people wear the Byerlys only for wakeskating, but they are comfortable and suitable for everyday use. Although, their functionality for wakeskating comes as a detriment in the winter months. Their construction makes them light and airy, resulting in a shoe that wonít keep your feet warm when itís cold out.

Overall, Iím pretty happy with the Byerlys. Theyíre comfy, functional, and oh-so-stylish. And thatís very important because back in the day I read in some magazine that "you gotta look good to board good".

Buy Them Now At Boardstop.com

Reef Byerly II


Comments?
Shop For Wakeskating Gear


Accurate 20ft Wakesurf Rope and Handle


Wakeboards


Ronix Wakeboards


Hyperlite Wakeboards


Liquid Force Wakeboards


Slingshot Wakeboards


CWB Wakeboards


Wakeboard Bindings


Ronix Bindings


Hyperlite Bindings


Liquid Force Bindings


Slingshot Bindings


CWB Bindings


Wakeboard Packages


Wakeskates


Wakesurf Boards