Home

All Articles

Wakeskate Guide

Discussion Forums

Features

Reviews

Trick Tips

Wakeskating History

Links

Link To Us

Wakeboarding

Wakesurfing

Wakeboards

Wakeboard Towers

Hyperlite Wakeskates

Liquid Force Wakeskates

Byerly Wakeskates

Buy Wakeboards

Ronix Wakeboards

Liquid Force Wakeboards

Buy Wakeskates

Wakeboard Towers

Wakepics

Wake Videos

Complete Longboards

Article Alert


Media Center

Pictures

Videos

Buy Wakeskate Videos


Grip Deck

Getting Up

Dock Start

Ollie

HS Wake Jump

TS Wake Jump

HS Backside 180

BS Pop Shuvit

FS Pop Shuvit

Surface 180 Shuvit

FS Bigspin

TS Shuvit to Indy

Kickflip


Advertise

Contribute Articles

Submit A Trick

Feedback Form

Visitor Feedback

About RSS
Andrew Pastura Joins The Leatherman Team
Date: 12-28-2013

Multi-tool company Leatherman has developed an extensive line specifically directed at action sports athletes and their needs. (You can check out the line here.) The next obvious step is getting riders to represent the brand, use the tools and give some feedback. Not only did Leatherman choose a wakeskater to represent the brand, but that wakeskater is none other than Andrew Pastura.

Check out the video below to learn more about the Leatherman brand, their ideals, and their journey in developing useful tools for all boardsmen.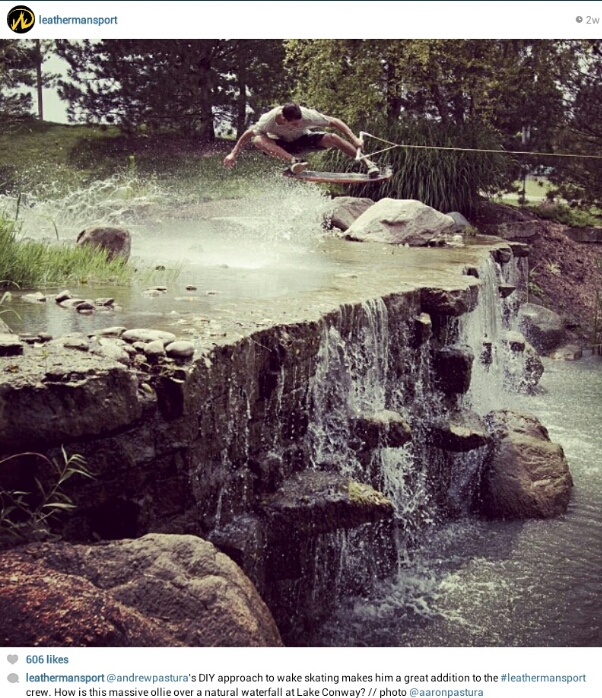 Leatherman photo link here.

Comments?
Shop For Wakeskating Gear

CWB USCGA Boys Infant Vest



Wakeboards


Ronix Wakeboards


Hyperlite Wakeboards


Liquid Force Wakeboards


Slingshot Wakeboards


CWB Wakeboards


Wakeboard Bindings


Ronix Bindings


Hyperlite Bindings


Liquid Force Bindings


Slingshot Bindings


CWB Bindings


Wakeboard Packages


Wakeskates


Wakesurf Boards