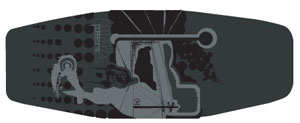 | | |
| --- | --- |
| Length: 41 in. | Rocker: 2.0 in. |
| Mid Width: 15.12 in. | Rocker Type: Three-stage |
| Tip Width: N/A | Warranty: N/A |
| Weight: 6.6 lbs. | Skill Level: Advanced |
Manufacture Description: In addition to our A-Symmetrical Concave Line we also are offering a Symmetrical Concave in both Grip and Foam. The best selling Concave in the industry is back for 04 as Drew McGuckin's pro model deck. Screening graphics has always been the standard for the industry due to cost and efficiency. We've gone the extra step and sublimated all of our graphics with a polyeurathane base for durability. Making the boards last longer, without adding too much weight is what we set out to do and we're proud to have Cassette's first pro-rider on the team backing it.
Other wakeskates by Cassette:
40 Concave Grip (A-Semmetrical) 40 Flat Deck Foam 40 Flat Deck Grip 41 4-Trac Grip (Aaron Reed) 41 Concave Foam (Drew McGuckin) 41 Flat Deck Foam 41 Flat Deck Grip 42 4-Trac Foam (Thomas Horrell) 42 4-Trac Grip (Thomas Horrell) 43 Concave Grip (A-Symmetrical) 43 Flat Deck Foam 43 Flat Deck Grip 45 Flat Deck Foam 45 Flat Deck Grip


Shop For Wakeskating Gear


Liquid Force 2018 Trip 142 Wakeboard